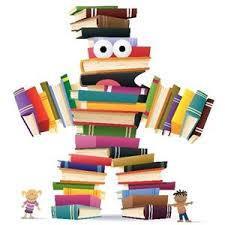 March 27, 2019
It's still chilly enough here in Jersey to enjoy a bowl of soup. Here's Writers Soup IV for you to partake in. Hoping you enjoyed my previous newsletters. They contain book and author recommendations, one of my poems, writing prompt samples, and always something fun to do. To review, there's been digital jigsaw puzzles in Writers Soup II, homemade journals and bookmarks to make in Writers Soup III, and in my first newsletter, there's a facial scrub, and some suggestions and links to make gift items.
Words for thought: Veronica Roth, author of the YA novel Divergent, dedicated this first in the series novel to her mother: 'To my mother, who gave me the moment when Beatrice realizes how strong her mother is and wonders how she missed it for so long.' I hope you hold such thoughts about your own mother. Even the tiniest bit of recognition goes a long way that opens and expands your heart to deeper growth.
BROTH
Writing Prompt Samples
How would your story go if you wrote of being buried alive?
"I couldn't breathe. Scratching the lid of the box had broken my nails. My skin bled from the pounding. I had to make an opening soon or the inevitable……There – a small opening – but the hole filled quickly with dirt. I screamed until I thought it was my last breath. Then there was shaking. Lots of shaking. The box shifted from side to side. I could feel intense, moving pressure against the box when suddenly the box cracked. I gasped and took in air and dirt trying not to choke. I pushed through the top of the box and climbed out and upward through the dirt. The ground was still shaking and then all of a sudden it stopped. No tremors under my feet. I stood and looked at the mangled cars and long splits in the ground before me. Who would have thought that I would be saved by an earthquake? Well, I must have been saved to get the sucker that put me in that box. I'm gonna get him good. I'll be the earthquake when I get there. He won't know what hit him and I won't make the same mistake, getting caught off guard again when I was vulnerable. If I die attempting to get back at him, then at least I will go down fighting and not buried alive in a box. No one will ever put that kind of fear in me ever. Never ever again."
Zeus, aged like the wind in his hair, but strong and virile as a youth, climbs Olympus and opens the mountain's eye. He reaches in to take the bolt of light that molds to his hand like it was part of him. It is the source of his strength, it is eternally his, and it is only his.
Note: Maybe these will trigger a poem or a story from you or you can try something else under my Writing Prompts heading on my website that you may like.
MEAT/BEANS AND VEGETABLES
Reading Recommendations: YA
If you like author Anne Rice, I've listed more of her novels below. And if you don't know her, she's famous for her Vampire Chronicles, Interview With the Vampire (also was made into a movie) and Prince Lestat and more.
Middle grade
Philip Pullman – The Golden Compass Bk 1 (also a movie) (His Dark Materials #1 – there are three to the Dark Materials series
https://www.goodreads.com/book/show/119322.The_Golden_Compass?ac=1&from_search=true
Adult
Sarah Addison Allen – Garden Spells – (Waverley Family #1)
https://www.goodreads.com/book/show/1158967.Garden_Spells?ac=1&from_search=true
SPICE – THINGS TO DO
This craft is from Art Threads making repurposed T-shirt bags. I thought these were cool and if you don't have t-shirts to use, you can search for t-shirts at thrift shops which is another fun activity to do, thrift shopping. Making these bags could be a fun spring or summer project and you can use the completed bags at the beach or it's also good for something to do on a rainy day. For young adults and adults. Have fun.
http://artthreads.blogspot.com/2011/03/wednesday-sewing-repurposed-t-shirt.html
For middle grade: no sew tote bag made from a tank top: this is doable for MG. Ask for help, need be or work with friends at a party or sleepover.
https://happydealhappyday.com/15-minute-no-sew-tote-bag-made-tank-top/
At last, a poem:
HERE
Here I am again
loneliness has dissipated into the darkness
only to leave behind awareness
knowing time is short, yet long seem the hours
passing by
a bright future waits in the wings,
an incessant thought, fearsome that it will go away
as mesmerizing worries from yesteryear
frequent my path
the sun rises and sets when standing still
it takes my breath away to be initiated into
the moment
my eyes perceive the sparkling clarity that
time is friend to everyone,
teaching each to befriend the sun
leaving no room for loneliness,
becoming sunshine.
Giulietta Passarelli, Writer
http://www.gpassarelli.com
I'm also Mimi, the Mad Queen at: http://www.mimithemadqueen.tumblr.com – The Mad Queen, only on Tumblr – come find and follow me.