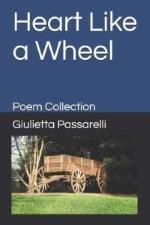 Esmeralda is a good witch. Along with her coven she is sworn to protect their village of Cheselwood, but three sisters of the coven fall in with evil rogue witches and use dark magic to hinder Esmeralda from protecting the Book of Dark Arts and her mother's bones in the graveyard behind her cottage. She seeks help from the Grand Witch of all witches, her Grandmother, who lives in the bewitched Bainwoods Forest where all master witches live. She trains Esmeralda to be a master witch to help her overcome the wicked sisters and to find her father who left home to find his own magic and never returned. She is bestowed with a special power at the festival of master witches from the Supreme Leaders, most powerful over witches, warlocks, and sorcerers, whose spells have been interfered with as well. She journeys to find her father, and in the end must battle the powers of the sorcerers and the evil sisters. The Good Witch is a story of magic, witches, warlocks, and sorcerers, and of powerful spells as she travels through the lands of the mages and other dimensions.
Fifteen-year-old Jane, part of a family of nine, is caretaker to four of her younger sibs and all that goes with the job. It's a story of losses for Jane, her mom being the first and biggest loss, and how she deals with her grief, overcomes the lack of peace and privacy, not having friends, and how she manages to come up with a solution to a nearly impossible dilemma and timetable thrust upon her by her father. Interaction between the sibs and those between them and the Spanish caretaker hired to help that speaks no English nor drives, is lively. New friends come into her life unexpectedly, one that has as many siblings as Jane, and others, all disappearing too quickly. She tackles her problems head on, but when things are about to fall apart for her, a surprise comes along in the end.
This nine-year-old Afro-American girl aka Dina has a thing about her name. But that's the small part. Much bigger to bear is losing her parents and becoming a foster child. A very angry one who makes life so difficult in the homes she's placed, each of the foster parents return her. A new social worker comes to her rescue, bringing new homes, new troubles, but eventually finds a loving home that works. Dina confides in the stars, makes a new friend, and finds the courage to ward off some school enemies. When losses continue, her desperation renews, and she makes a decision that could thwart her safety, and in the end, will have to give an answer to what will change her life.
Audition is a story of a 14-year-old girl who gets a shot at her dream to be an actress and how she overcomes the obstacles and conflicts that come her way. Signing up was the easy part. Getting there is the story.