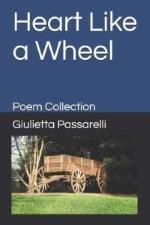 Giulietta is Italian for Juliet or Juliette, however you wish to spell it, and the Giu sounds just like a J. She is Italian American, born in the US. She is a degreed writer. She has worked as a Supplemental Instructor for English college students, and two of her poems were published in the college's literary and art magazine, Seascape. She also was Secretary and one of the Associate Editors for Seascape during college years. In addition, she studied basic and advanced writing for children and teens with the Institute of Children's Literature, Connecticut. She previously worked for several years as a substitute teacher in her area for elementary school children.
She is an author and writes middle grade fiction novels, poems, and short stories for children and teens, some for adults and always for the ageless. Her new chapbook is available on Amazon titled Heart Like a Wheel (use link on Home and Works pages). She is a former government worker, reflexologist and nutritionist.

Born in Manhattan, she was brought to NJ at the early age of one year, along with nine other siblings and did not get the New York experience at all. As far as growing up in such a large household, she says, "Quite an experience and memorable." Her mother was the backbone of the family that gave relentlessly of herself day or night. A woman that defined unselfish love, sacrificed much, and was the love of her life, along with her two children and two grandchildren. Her father worked tirelessly seven days a week.

Her new middle grade fantasy novel, Stuck in the Middle of the Moon, has been completed. News to come on future publishing.
-Note - If you wish to receive emails of publishings and special updates, use the signup box here on the Home page. You can always ask to be removed.
-Note - Giulietta's blog has been relocated to Medium.com. Many of her blog articles, fiction stories, and poems have been published on Medium and you can access some of them via the links on her Free Writings page here or follow her at: mailto:medium.com/@gpass3woj/follow. She hopes you continue to visit her here and on Medium. To read all her writings, become a member of Medium which is terribly inexpensive: https://gpass3woj.medium.com/membership or buy me a coffee at: https://ko-fi.com/giulietta18021.
Giulietta was on Tumblr as Mimi, the Mad Queen for more than three years, but has moved to Kindle Vella. There's a little more about Mimi also in her fifth newsletter, Writer's Soup V at her News tab. NOTE: Royal Blue, Mimi the Mad Queen, from the beginning, is now on Kindle Vella at: https://www.amazon.com/Royal-Blue-Mimi-Mad-Queen/dp/B0BGW3TNK2/ref=sr_1_1?keywords=royal+blue&qid=1665615135&qu=eyJxc2MiOiI5LjU4IiwicXNhIjoiOC45OSIsInFzcCI6IjcuNDIifQ%3D%3D&s=falkor&sr=1-1. The series is now complete and all episodes are live. Mimi is quirky, has a despicable sister that pulls tricks on her, and she has a wizard that helps her get out of troubles, and once turned her into a superhero for a while. Ta Ta, Signed Mimi the Mad Queen.
Please note that Giulietta includes many book and author recommendations on her site, writing prompts, and news comments which are updated monthly on the first. She welcomes comments.